ECE Compensation Workgroup
Workgroup Focus:
The Compensation Workgroup's charge is to identify strategies, develop resources, and advance policies and funding to improve the overall compensation of the early care and education workforce. While activities, priorities, and projects vary over time, the work is responsive to the current landscape of policy and practice and the needs of the early childhood workforce on all matters related to compensation. The members of this workgroup represent a wide range of projects, programs, and organizations to better understand and inform the range of supports and strategies necessary to improve compensation within the mixed delivery system of early childhood education.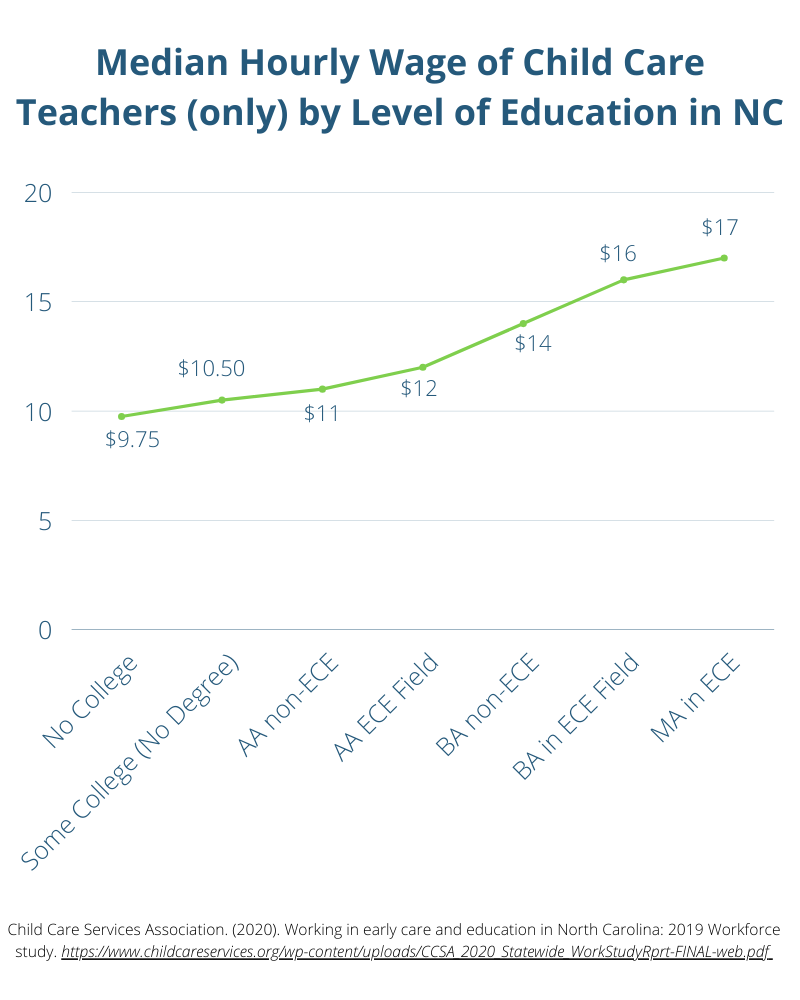 Workgroup Co-Chairs:
Anna Carter, State Systems Specialist with ICF/ Institute Board Member
Ashley Allen, Education, Quality Improvement and Professional Development for Early Care and Education Programs (EQuIPD)
Workgroup Members:
| | |
| --- | --- |
| Member | Affiliation |
| Krishonda Degraffenreid | UNC Chapel Hill Child Care Center/ Institute Board Member |
| Allison Miller | Child Care Services Association (CCSA) |
| Angie Roberson | Education, Quality Improvement and Professional Development for Early Care and Education Programs (EQuIPD) |
| Beverly Williams | Child Care Services Association (CCSA)/CCR&R |
| Florianna Thompson | Wake Technical Community College |
| Paula Gales | EC Itinerant Teacher/IEP Support PreK at Alamance Burlington School System |
| Rochelle Sanders | Family Child Care Home Provider, Rochelle Sanders Day Care Home |
| Sandy Johnson | Provider, Friendly Avenue Baptist Church |
| Caroline Rodier | Buncombe Partnership for Children |
| Rosemarie Vardell | Advocate |
| Safiyah Jackson | NC Partnership for Children |
| Cassandra Brooks | Provider, Little Believers Child Care Center |
| Davina Boldin Woods | Provider, Genesis Child Development Center |
| Alison Keisler | NC Division of Child Development and Early Education (DCDEE) |
| DeDee Ephraim | Child Care Resources |
| Margaret Shelton-Foushee | Provider, Blossoms Day Care Center |
Workgroup Highlights and Related Work:
In 2021, the NCICDP, along with other ECE partners across the state released a Model Salary Scale for ECE Teachers. This scale built upon the early work of the Institute's original salary schedules. In addition, members of the Institute Compensation Workgroup is finalizing a tool kit to assist administrators, higher education faculty and TA/PD providers in helping child care programs to implement a model salary scale to improve early childhood compensation.
---
In addition, a webinar was provided in October 2021 to introduce the ECE field to the Model Salary Scale and planned resources, such as the toolkit, being developed to support implementation of the salary scale. You can learn more about the salary scale and the history of its development by accessing the webinar here:
---
Additional Resources related to Early Childhood Educator Compensation & Benefits can be found here.