ECE Higher Education Workgroup
Workgroup Focus:
Early childhood educators are shaped by the quality of their education, preparing them to care for and educate young children. State agencies govern and monitor educational institutions for their content and quality of preparation programs. The Higher Education Workgroup aims to provide guidance and recommendations to assist these state agencies and Institutions of Higher Education (IHEs) with specific early childhood field needs. Data from empirical research back their recommendations to support high-quality learning programs and environments benefiting children, their families, and the community. The Education Workgroup aims to ensure access and affordability to programs of various pathways (ex., High school to community college to four-year college to master's degree programs), support course articulation and transfer from one education pathway to another. Their goal is to ensure higher education institutions have high-quality standards so that graduates are well-prepared to meet the professional needs of the ECE field and the children and families with whom they will work.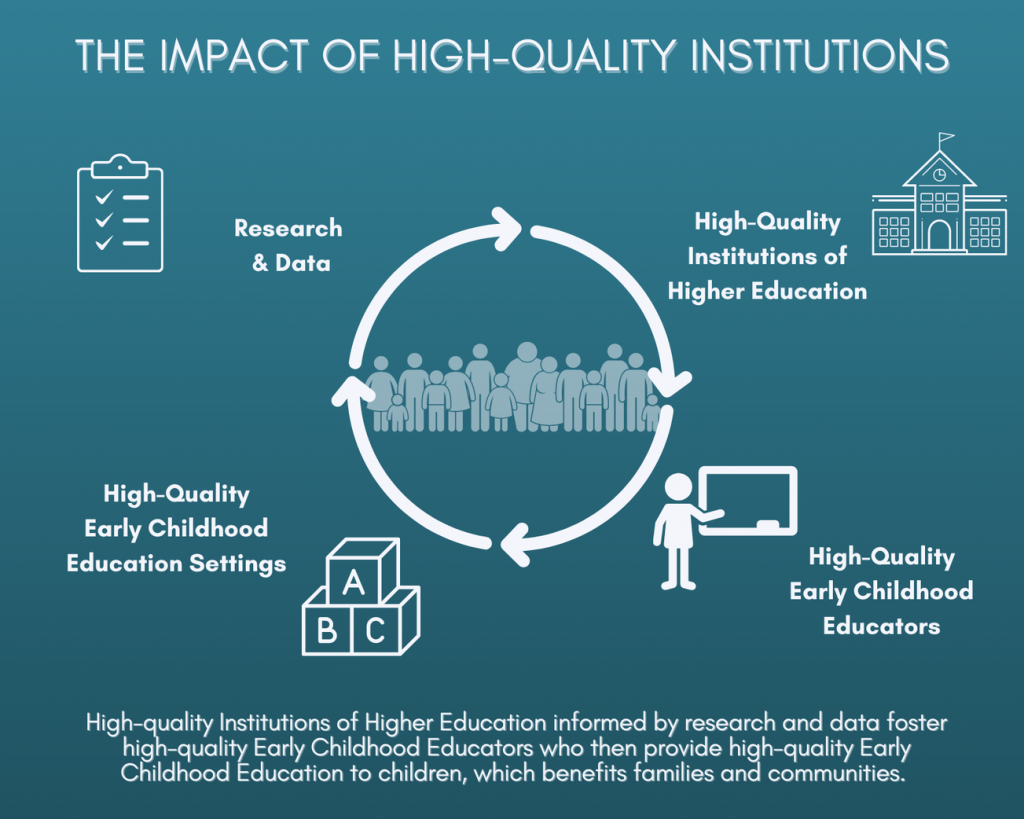 Workgroup Co-Chairs:
Harriette Bailey, UNC-Greensboro/ Institute Board of Directors
Cathy Collie Robinson, Durham Technical Community College/ Institute Board of Directors
Workgroup Members:
| | |
| --- | --- |
| Member | Affiliation |
| Mary Olvera | NC Community College System Office |
| Erin Speer Smith | Institute Board of Directors |
| Archana "Anu" Hegde | East Carolina University/ Institute Board of Directors |
| Mary Harrill | National Association for the Education of Young Children (NAEYC) |
| Kristi Snuggs | Child Care Services Association |
| Kathryn Aldridge | UNC-Greensboro |
| Amanda Vestal | UNC-Charlotte; Early Educator Support Office |
| Paula Moten-Tolsen | Shaw University |
| Amy Duffy | Child Care Services Association |
| Irina Falls | UNC-Pembroke |
| Clay Smith | University of NC System |
| Stephanie Clark | Child Care Solutions-CCR&R |
| Tonia Padrick | Johnston Community College |
| Vickie Brinkley | Retired-Rockingham Community College/ Institute Board of Directors |
| Renae Lingafelt-Beeker | Child Care Resource Center |
| Meredith Jones | UNC-Wilmington |
| Tori Black | NC Division of Child Development and Early Education |
| Sharon Little | Child Care Services Association |
Workgroup Highlights and Related Work:
The Institute Board of Directors and Higher Education Workgroup has worked tirelessly over the years on behalf of better and stronger articulation/transfer opportunities for Early Childhood Education AAS degree students into ECE bachelor degree and Birth to Kindergarten licensure and non-licensure programs. In 2017, the Institute's Higher Education workgroup began and led the effort in establishing NC legislation that would work to ensure a statewide articulation agreement opportunity for Early Childhood Education students. This uniform articulation agreement between the University of North Carolina Early Childhood Education and Birth to Kindergarten programs and the NC Community College System Associate of Applied Science (AAS) degree programs was established and put into effect Fall 2018.
---
In 2021, the Higher Education Workgroup partnered with the National Association for the Education of Young Children in creating a higher education survey tailored for NC Early Childhood and B-K Higher Education faculty at all levels (associate degree, bachelor degree, master degree and doctoral degree) across the state. This survey was designed to learn more about NC's higher education programs and faculty members as well as specific challenges faced in higher ed. ECE programs during the COVID-19 pandemic. The National NAEYC report from this survey can be found here. The specific NC data may be downloaded below.
---
Additional Resources related to Early Childhood Higher Education can be found here.