Advancing the Education of the ECE Workforce Workgroup
Workgroup Focus:
The key to advancing the early childhood education (ECE) workforce is fostering a well-educated and trained staff. The role of the Advancing the Education of the Workforce (AEW) Workgroup is to identify strategies and create systems that encourage, promote, support and reward early childhood professionals while providing resources and advocacy tools to assist in obtaining their education. The AEW workgroup works on the Early Educator Certification (EEC) system which directly certifies the individual education of the early childhood professional based on levels of education. They support the current educators in the field by assisting them with advancing their education for their career pathway. Children need diverse, well-educated, and skilled ECE professionals. The Advancing the Education of the Workforce Workgroup is working to ensure that education is more affordable and attainable for the diverse educators currently serving in the field.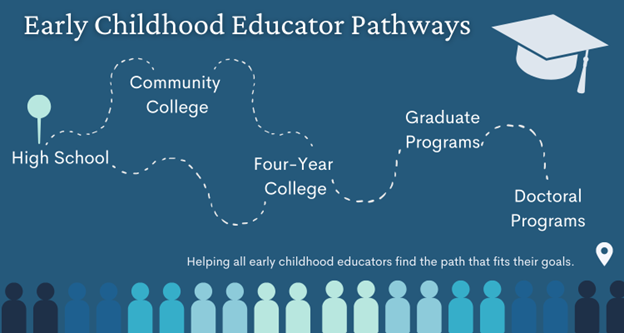 Workgroup Co-Chairs:
Anna Mercer-McLean, Community School for People Under 6/ Institute Board Member
Norma Honeycutt, Partners in Learning Child Development & Family Resource Center/ Institute Board Member
Workgroup Members:
| | |
| --- | --- |
| Member | Affiliation |
| Edith Locke | Child Care Services Association/ Institute Board Member |
| Consuellis Hawkins-Crudup | East Coast Migrant Head Start/ Institute Board Member |
| Christy Hopkins | Stanly Community College |
| Amy Smith | Western Carolina Community Action |
| Dr. Brenda K. Williamson | NC Division of Child Development and Early Education (DCDEE) |
| Mary Towell | NC PreK Teacher |
| Deidre McMahon | Southwestern Child Development Commission, Inc./ Institute Board Member |
Workgroup Highlights and Related Work:
In the summer of 2023, the Advancing the Education of the Workforce (AEW) Workgroup took the initiative to begin the creation of a newsletter to highlight news from the Institute and other sources for the Early Childhood community across NC. The 1st edition was released in August 2023.
---
Additional Resources related to Education of the Early Childhood Workforce can be found here.